5 days/4 nights
Lake Teletskoye- Chulyshman Valley- Rafting down Katun river
720 €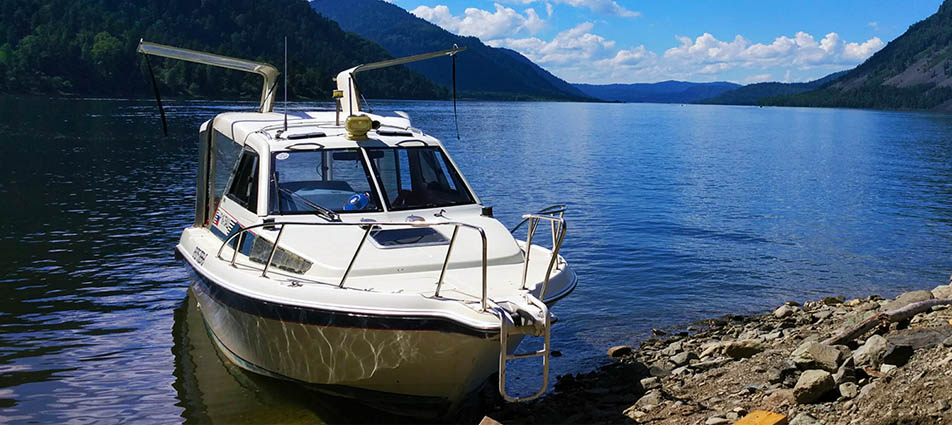 720 € (prepayment: 30%);
 Group size: 4 - 10 pax;
 Duration: 5 days/4 nights
 Start: on demand
 Comfort:
 Difficulty:
Day, 1. At 8 a.m. you will have a transfer from Byisk to Teletskoye lake. On the way you will visit a museum of Gorno-Altaisk with a mummy of Altai princess.
In the evening you will meet with a group leader, receive all necessary equipment.
Night at the hotel in Artybash village.
Day, 2. Early in the morning you will be transferred by runabout to the southern part of Teletskoye lake. It's one of the biggest and cleanest lakes in Russia. In a local language it's called "The Golden lake". Walk around the lake. Have a break for a lunch.
The river Tchulcha is scarcely explored. It's located at the territory of Altai natural reserve.
Tonight you will stay in a small wooden house.
Good night!
Day, 3. After breakfast, you will take a radial tour to the beautiful waterfall "Uchar" (8 km one direction). Water falls from 160 meters, polishing the stone walls. The noise is so great you can't hear a person shouting next to you. have a break for lunch.
Cook a dinner on fire. Enjoy your evening over a friendly chat.
Tonight you will sleep in the same house.
Day, 4. After an early breakfast you will cross Katuyaryk pass (3,5 km, elevation 900 m). The pass is the gates to the wildlife sanctuary "Chulyshman". You will travel by the picturesque top-soil road in Ulanskoye highlands. Enjoy the taiga forest and deep-blue lakes below. The first time you get here, you observe a breathtaking view and can't move, you see the panorama of green Chulyshman winding below and on the opposite side- Chulyshman highlands that end with sheer walls as high as one kilometre from where a waterfall runs.
Have lunch. On our way we visit "Pasyrykskyie barrows" (5 century BC). There are 5 big barrows there. Some findings from these barrows are now kept in Hermitage.
You are going to pass the conflux of the rivers Tchuya and Katun and Tchke-taman pass.
Get warm in the Russia banya in the evening.
Overnight in touristic base in Belukha.
Day 5 Immediately after breakfast we are going to prepare for rafting in the Katun. This is a fast rafting which will pump adrenaline in your blood. We will make four rapids: Seminsky, Muny, Katunsky, Manzheroksky.
Have lunch, have a rest and go on excursion to the Kamyshlinsky waterfalls, Kedrovy island and surface grotto of lchthyander.
After rafting and excursions you will have a transfer to Byisk. You will be in the city by 8 p.m.
The cost of the tour includes:
Transfer en-route from Biysk,
tour-guide services,
meals,
accommodation
Additional information
The international flights arrive in Novosibirsk- the biggest city of Siberia. In case you arrive there, you will need to have one day before the tour and one day upon its completion for the transfer. Our staff members in Novosibirsk will meet you, arrange the excursions, order the meals and the accommodation for you. Biysk and Novosibirsk are cities, connected by a branch of Trans-Siberian railway. We can organize a transfer by train or by car to the starting endpoint of the tour.

Altai Touristic. Discover Conquer Travel
Rafting
Some places frome the tour in this Video
The author of the video is Kirill Osipov