Khabarovsk

8523rd km of the Trans-Siberian railway

.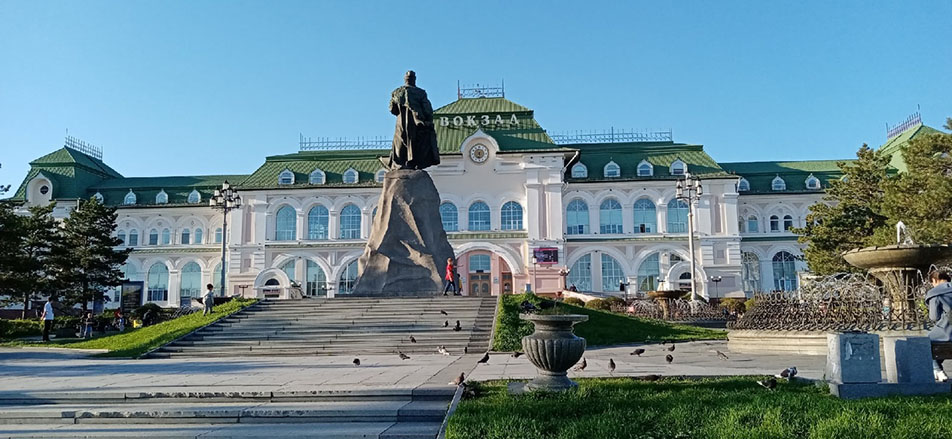 Khabarovsk city tour
Khabarovsk. The capital of the Far East region.
Khabarovsk is the largest city in the Russian Far East, located near the China-Russia border at the confluence of the Amur and Ussuri Rivers. The city became part of the Trans-Siberian Railway in 1916 when the Khabarovsk Bridge across the Amur was completed.
The area where Khabarovsk is located was populated for millenia; first historical records of settlements in the city vicinity are dated back to the eighth century. The Tungusic peoples indigenous to the region were self-ruled under the protectorate of China. In the middle of the 17th century Russian Cossacks, exploring and colonizing the area and collecting tribute from natives, faced a series of attacks from Manchu army and local resistance and began to build temporary fortresses (ostrogs). One of the most long-lasting forts (Achansk Fort) was built by Cossacks led by Yerofey Khabarov. The region became part of the Quing Empire (China) in 1689 and remained as such until 1858 when it was ceded to Russia under the Treaty of Aigun. The military outpost named Khabarovka was founded. The town status was granted to it in 1880, and in 1893 it was renamed Khabarovsk. The city became an important industrial center for the region. In 1894, the Russian Geographical Society opened a department in the city, preserving and exploring native heritage, part of which can be seen in the Regional Lore Museum and Natural History Museum.
In 1916, the Khabarovsk Bridge across the Amur river was built, expanding the Trans-Siberian Railway further east. (Unfortunately, in 1920, during the Civil War two sections of the bridge were destroyed, and the bridge was restored only five years later.)
Khabarovsk is a popular destination for Asian tourists. Walking city tours usually begin on the central square. However, those who arrive by train are met by the Khabarovsk bridge (dubbed the "Amur Miracle"), a colossal two-level century-old bridge, and the monument to Yerofey Khabarov. The city possesses various museums (The Military History Museum is the most famous), old architecture objects, cathedrals, artificial city lakes, parks and promenades.
Closest Trans-Siberian cities are: Birobidzhan and Dalnerechensk
We will be happy to conduct excursions in Khabarovsk for you. Book your Khabarovsk city tour
Trans-Siberian city tour request