Moscow Metro stations
14th july, 2022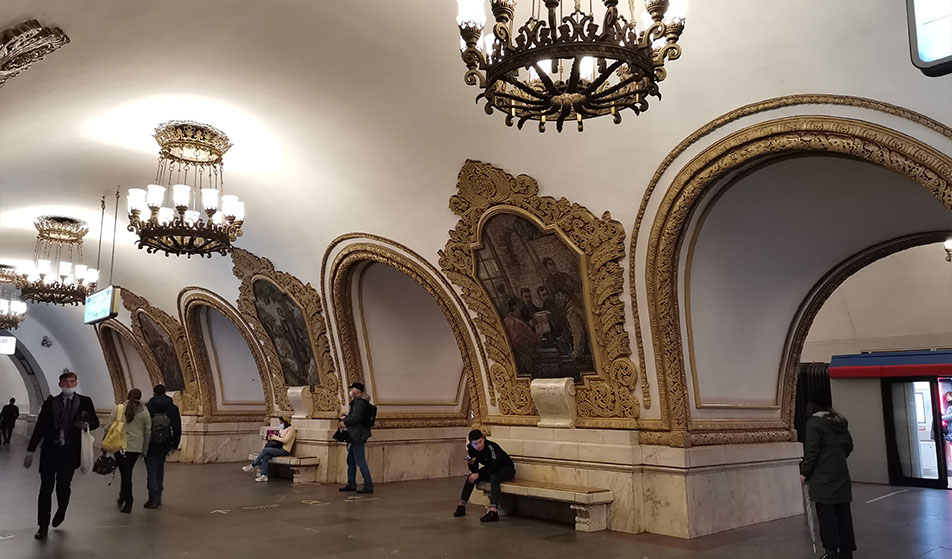 Moscow metro stations
Moscow metro stations are the most beautiful subway stations in the world. They look like small underground art museums of sculptures, paintings, mosaics.
Therefore, it is not surprising that a tour of the Moscow metro stations has become a hallmark of Moscow.
Enjoy our photo gallery and join our Trans-Siberian tour which has a subway tour as part of it.

In Moscow there are 278 metro stations. The most beautiful are old stations. On pictures above you can see some of them:
Park Kultury (Park of Culture). Moscow Metro station on the Koltsevaya Line.
Belorusskaya. Moscow Metro station on the Koltsevaya Line between Krasnopresnenskaya and Novoslobodskaya stations . The depth of the underground hall of the station is 42.5 meters.
Kievskaya Station is named after the railway station of the same name, under which it is located. It was opened in 1954.
Ploschad Revolyutsii (Revolution Square) Moscow Metro station on the on the Arbatsko-Pokrovskaya line between Kurskaya and Arbatskaya stations.
If you want to take a Moscow metro tour you can do it here or using form below