Kazan city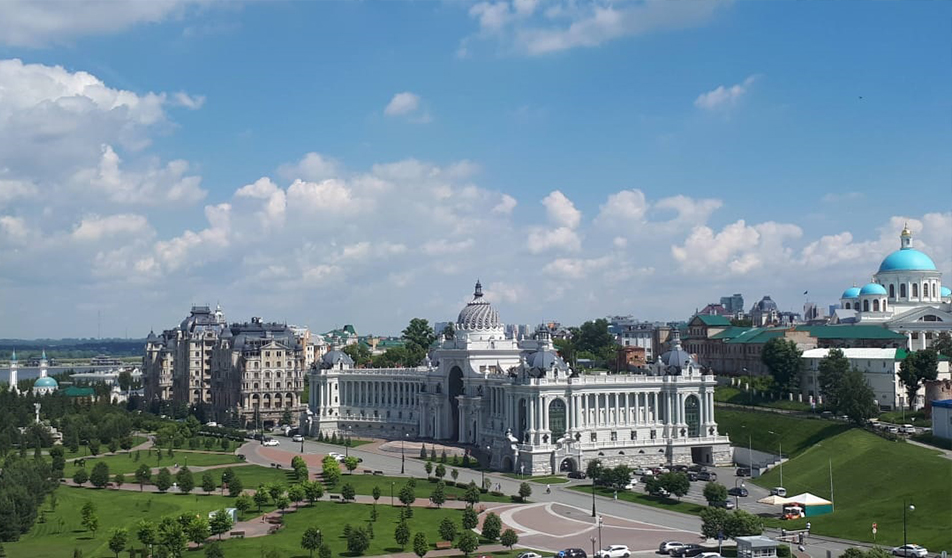 Kazan city tour
Kazansky railway station is located in the historical center of the city. In 10 minutes you can walk from there to the main tourist complex - the Kazan Kremlin. The Kazan city administration had the idea to move the railway station to a remote area to relieve the city center from traffic. However, so far this remains in the plans.
The Kazan railway station was built at the same time with the construction of the railway in 1893. It is said that the red station building was designed by the Kazan architect Genrikh Bernardovich Rusch.
After a fire in 1992, only the walls and foundation were what remained from the building. Now the station has been restored and greets the guests of Kazan once again.
We have several options for Kazan City tours having different duration. We offer city center tours (where you can visit its main tourist attractions) and an option for a country excursion to Sviyazhsk. In our city tours you can visit:
Kazan Kremlin (on the territory of the Kremlin there are the Syuyumbike Towers, the Kul Sharif Mosque and the Annunciation Cathedral)
Farmers' Palace
Marjani Mosque
National Museum of the Republic of Tatarstan
Azimov Mosque
Alexandrovsky Passage
Palace Embankment in Kazan
Bauman street
The Temple of all religions
Kazan Family center
There are options available for a walking tour, or excursions by car.
Kazan is located away of the Trans-Siberian railway, but we recommend you to visit the city a part of your tour.
Looking for guiding tours in Kazan, enjoy Kazan photos and join our Trans-Siberian tour.
City tour request