6 jours / 5 nuits
Rafting sur le cours moyen de la rivière Katoun
870 €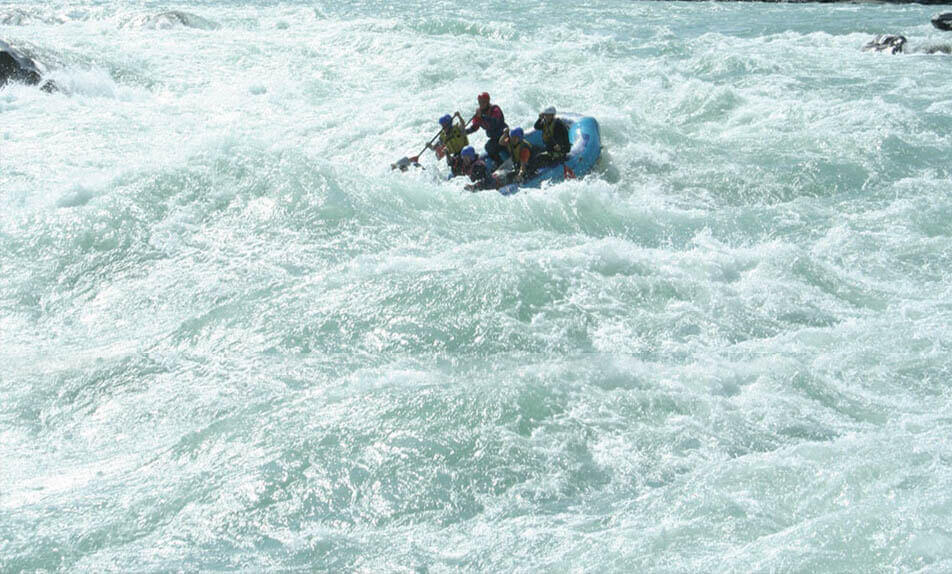 870 € (prépaiement: 35%)
 Taille du groupe: 6-12 personnes;
 Durée: 6 jours / 5 nuits
 Départ: on demand
 Confort:
 Difficulté:
Type de visite: Rafting
Diese Seite im Moment wird nur in englischer Sprache präsentiert. Wir arbeiten jedoch bereits an der deutschen Version.
Highlights
get rafting skills in a variety rapids that have 3rd class in whitewater rafting system;
pass the «Shabash» rapid, that has 4th class in whitewater rafting system;
get acquainted with traditions of rafting in Russia;
enjoy Altai mountains nature.
The Katun river and it's tributaries are the most attractive for rafting in Russia. The middle Katun is the most popular part for an adventure tourism on the water in Russia because of the variety of rapids and picturesque of nature.
Itinerary
Day 1.

Meeting and preparing

Gathering of the group at 8.00 at the Biysk city railway station, at 9.40 at the Gorno-Altaisk airport(if requested, we can meet you in the international airport of Novosibirsk). We will meet and transfer you to the campsite, located on the Katun river bench, next to Ust-Sema village. This is the day of meeting and preparation of the necessary equipment. Besides, there are different sights you can see close to the campsite.
Day 2.

Transfer to the launch point

After breakfast we star our moving to the confluence of Bolshoy Yaloman and Katun rivers. The road goes along Chuya highway through very picturesque places:
Seminsky mountain pass
Chike-Taman mountain crossing
Karakolsky valley with Bashadar burials
This day you will stay in a touristic tent in the campsite, located at the confluence of Bolshoy Yaloman and Katun rivers. The rafting will start tomorrow from this place. Confluences of powerful Siberian rivers are very picturesque.
Day 3.

«Ilgumen», «Kadrinskaya tube» rapids

There are many big and small rapids are waiting for you today. «Ilgumen» and «Kadrinskaya tube» rapids are the most interesting.
After breakfast you'll get instructions, practice in paddling and start rafting. Here you'll try The Katun's roller coaster. After that we will pass through the «Ilgumen» rapid (class 3th-4th).
«Kadrinskaya tube» is a long series of the rapids. And sudden breakthrough after.
This night you'll sleep in a touristic tent on the glade that has named «Wedding Glade».
Day 4.

4th class «Shabash» rapid

Today's part of the tour is going far away from the Chuya highway. It's the most beautiful and wild part of the tour. Today you'll enjoy this nature and get experience with «Shabash» rapid - the most difficult one in the tour. «Shabash» has 4th class in whitewater rafting system. The rapid's length is about half kilometer and it has two parts. After rafting «Shabash» you'll pass 2 more rapids, placed in a rocky gorge.
Then we make a break and stay near stream Kemichapkin to see the rock painting (the age of the rock-art is about 5 thousands years).
Then we will have one more «Aila» rapid. After that we'll stay for a camp. Tonight you'll sleep in a touristic tent.
Day 5.

Teldykpen 1st & 2nd rapids

Day starts with excursion to the waterfall on the Biltertuyk river.
After excursion we raft the «Teldykpen 1st» and the «Teldykpen 2nd» rapids. They are placed in the narrow rocky canyon. Enormous power of the Katun river is griped here. It has a strong lower course. Then we'll raft two more rapids (easier than Teldykpen rapids) and finish rafting part of the tour. We'll sit in a bus and drive to the campsite.
In the campsite warm bania will be waiting for you.
Day 6.

Depart.

Today is finishing your adventure in Altai mountains. After an early breakfast, we will drive you to the Gorno-Altaisk airport.
Drive distance: 50 kilometres.
As an extra option, we can drive you to the railway station of Biysk on the evening train (the price is 35 EUROS per person. drive distance: 150 kilometres).
Safety
Safety in a rafting part of the tour is ensured by skilled guides. We have masters of sports in rafting in our team.
Accommodation
A Cabin house near Ust-Sema village
A Cabin house located on the Katun river bench. It has 2 floors. There are 3 rooms and a bathroom on each floor, also, there is 1 hall with a kitchen.
On request, we can offer you an improved accommodation for these days (available as an extra option).
Touristic tent
3 nights you'll stay in touristic tents
The cost includes:
Transfer en-route from Biysk,
tour-guide services,
meals,
accommodation
insurance
equipments
Additional information
The international flights arrive in Novosibirsk - the biggest city of Siberia. In case you arrive there, you will need to have one day before the tour and one day upon its completion for the transfer. Biysk and Novosibirsk are cities, connected by a branch of Trans-Siberian railway. We can organize a transfer by train or by car to the starting endpoint of the tour.
This tour could be combined with our road trip tour. Duration of combined tour is 11 days.